Brown's® PEE Patch Repair™ Quick-Growing Grass Seed Blend
Is your dog's urine burning the life out of your lawn?



We love our dogs, but lawn damage from their urine and high traffic areas can be frustrating to deal with. Doggie urine is like super concentrated fertilizer that can burn the life out of your lawn. The most successful solution to bringing your lawn back to life is the natural one. A little water, some new soil, and a generous sprinkling of our quick-growing premium grass seed mixture will get you on your way to new green grass within a week!
---
Everything You Need to Feed the Birds in Your Backyard!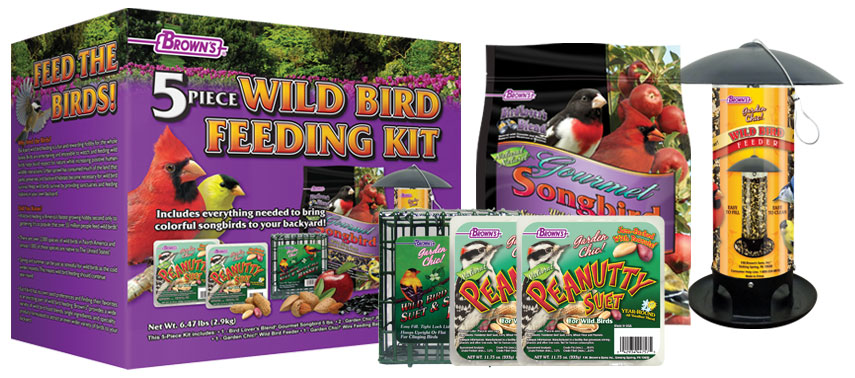 Have you ever wanted to bring colorful songbirds to your backyard but didn't know how to start? Brown's® 5 piece Wild Bird Feeding Kit can help! Whether you're new to wild bird feeding or an experienced hobbyist, our kit provides all the necessities to attract a great variety of beautiful songbirds and bring your backyard to life.

Wild bird feeding is an entertaining hobby for the whole family. It promotes positive human-wildlife interactions, and helps build a respect for nature. Humans and wild birds have developed a symbiotic relationship. Many wild birds rely on the food we provide for survival during stressful times such as the cold winter months and breeding seasons and in return, they fill our yards with life, beauty, melody and joy.
---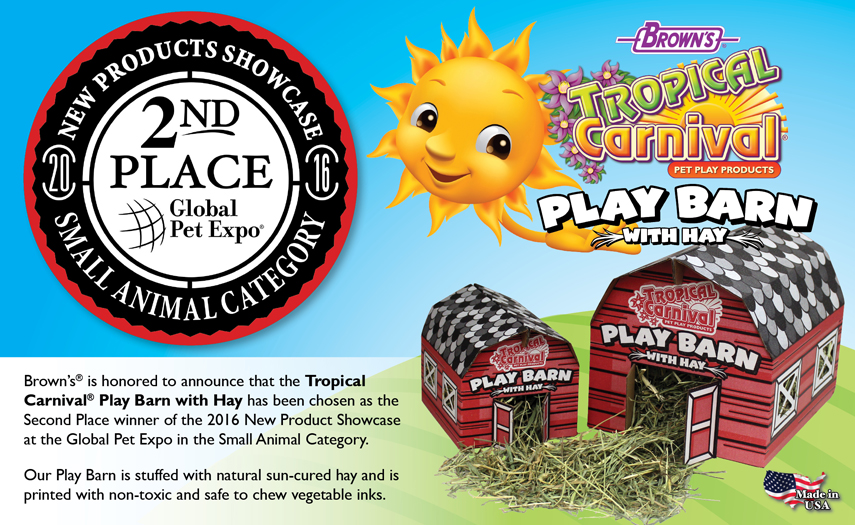 ---
| | |
| --- | --- |
| | |
---

---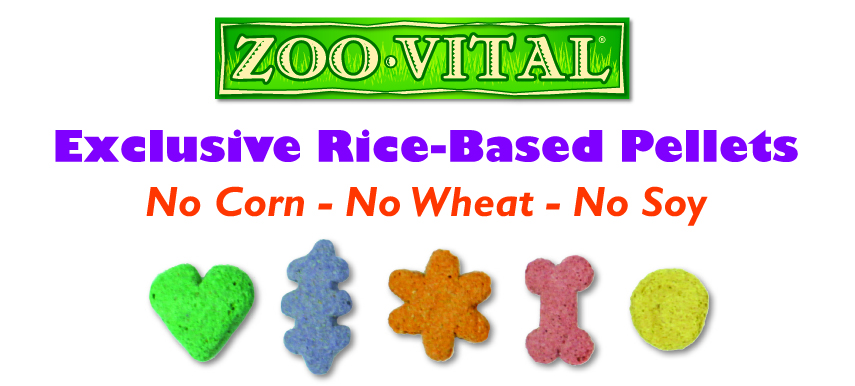 Why is extruded food better than seed based pet food diets?
Brown's® Tropical Carnival® Zoo•Vital® Extruded Ultimate Avian Diets provide 100% nutrition in every bite. Seed based diets allow birds to be selective eaters and miss out on key nutritional elements. Since 100% of each pellet is edible food, birds get all the necessary nutrition from each pellet. The extrusion process used to create our pellets even reduces health issues found in raw seeds, grains, fruits and vegetables that harbor unwanted and sometimes harmful contaminates.

Corn, wheat and soy are allergens. They contain gluten and other elements that can be toxic to birds. By replacing these grains with whole grain brown rice, you provide a natural source of selenium & manganese, natural oils, and a diet rich in antioxidants, fiber and calcium. The benefits of replacing these grains are superior digestion and nutrient absorption, vibrant plumage color, fewer stools, and great flavors that birds crave.

ATTRACT® Super Bites are nutrient and antioxidant rich bites made from a variety of natural veggies and fruits. Each of these ergonomic shapes provides a powerhouse of dense nutrients in an extruded form that makes food easy to hold and eat while encouraging the natural foraging instinct. The extrusion process eliminates possible health issues from added raw veggies and fruits that most often harbor potential contaminates. ATTRACT® Super Bites help maintain a healthy immune system while relieving the cage boredom of pet birds!

Whole grain rice based formulas are highly palatable and have superior digestion and nutrient absorption properties. Rice is a natural source of selenium (reduces risk of common illnesses) and manganese (synthesizes fats and benefits nervous and reproductive system). Rice is rich in naturally occurring oils (benefit the entire body and plumage), antioxidants and available calcium.
Fruits are packed with vitamins, minerals, micro-nutrients, antioxidants, and many phytonutrients that work together to balance a healthy immune system and protect your pet's cells.
Nuts are nutritional powerhouses and rich sources of Omega 3 Fatty Acids, fiber and  Vitamin E.
Veggies are rich in dietary fiber, antioxidants, vitamins, and minerals to support healthy immune system functions.

Seed based diets allow birds to be selective eaters, causing them to miss out on key nutritional elements. In our scientifically formulated extruded diets, the pellets are completely edible and contain 100% of the exact nutrition birds require in every bite. This prevents the birds from being selective eaters.

Extruded foods help reduce waste and messy habitats. Our 100% edible pellets are designed to create less mess and less waste than seed based diets while providing 100% nutrition in every bite. There are no shells or inedible pieces that birds will often discard.

The extrusion process reduces or eliminates health issues that arise from pathogen contamination present on seeds, grains, fruits, veggies and nuts.

---