About Us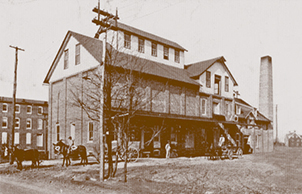 Our Story
My Great-Great Grandfather, George Brown, purchased a water powered grist mill that was built in 1843. He used mill stones to grind the grains to produce farm animal feed and flour from the wheat he grew on his farm.
Franklin Brown, one of George's sons, joined his father in the business that he directed until he retired in 1920. As our country was celebrating the dawn of the 20th century, Brown's business started on its path of expansion and growth with the addition of Franklin Brown's four sons, the third generation, into the family business.
The four sons formed a partnership called F.M. Brown's Sons that was later incorporated in 1948. Each son successfully established separate but supporting divisions of F.M. Brown's including a large animal food division in Birdsboro, PA; the flour division in Sinking Spring, PA which later moved into a new plant in Fleetwood, PA; a working farm in Douglassville, PA and a fuel oil and coal division in Reading, PA. Later, their sons, the fourth generation of Brown's, entered the corporation.
In 1960, Harvey Brown, my Father and a member of the fourth generation of F.M. Brown's, moved his family to Sinking Spring, PA and began selling large animal foods that were produced by his brother in Birdsboro, PA. Harvey enjoyed a thriving business and had many trucks lined up waiting to be loaded with feed for their farm animals.
He then began to notice that farmers in the area were selling their land to developers and that it was time to think about the prospect of reinventing his business. Harvey noticed that people in the suburbs were setting up wild bird feeding stations in their backyards. He enjoyed the hobby but had difficulty finding a good quality wild bird food in the area. He began to explore the business of producing wild bird food at his facility. He channeled his entrepreneurial spirit, did his research, and spent endless hours setting up the plant to produce and package wild bird food. This was a brand new venture for Brown's.
With blood, sweat, and tears, Harvey built his division from the ground up and made innovations in manufacturing procedures, including his exclusive five-stage cleaning process. He had no tolerance for dust, dirt or inferior ingredients. With his high standards, he established us a hobbyist quality wild bird food company that caters to people who are true hobbyists, interested in bringing beautiful songbirds into their backyards. His loyal customers were so impressed with his wild bird food that they asked him to produce companion pet foods as well. He remembers when he received his first full truckload order for wild bird and companion pet food and how he celebrated that day.
Now under the supervision of the fifth generation of Brown's, Marianne Brown Egolf as Manager of the division and Sue Brown as Sr. Vice President of Sales and Marketing, we've expanded the Sinking Spring facility in order to keep up with the demand for our trusted brands, licensed products, and private label companion pet and wild bird products that are sold and recognized throughout the world. We're proud to have "stepped up to the plate" and reinvented the business again. My dad, Harvey Brown, was there to guide us all the way through the expansion with encouraging words and instilling us with his values, high standards, and work ethic. He's still actively involved in overseeing the business and we consult him regularly.
Brown's has grown into five manufacturing facilities with many divisions including fuel oil and coal, a working farm, pigeon feed, grass seed, companion pet food and treats, wild bird food, equine treats, pond food, farm animal foods, and of course flour for the snack industry. We'll continue our legacy into the sixth generation who will hopefully one day pass the business onto their children… the 7th generation of Brown's.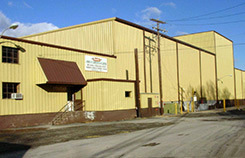 Brown's Mission
We're trusted producers of superior products that enrich the lives of wildlife, pets and pet parents. Family owned and operated since 1843, we hold onto our values of strength, tradition, and integrity that are passed from one generation to the next. We believe that our associates are active members of our team and strive to actively support our community.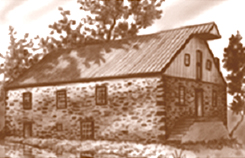 Brown's Family Businesses
We invite you to discover more about the five additional Brown's divisions and diversified manufacturing facilities which are all located in eastern Pennsylvania.
1843
Brown's First generation: In 1843, George Brown purchases a water powered grist mill to produce livestock feed and flour for his farm and neighbors.
Brown's Second Generation: Franklin Brown joins the business in order to expand the flour operation into a profitable business.
Brown's Third Generation: Franklin Brown's four sons begin their training by selling flour door to door in paper sacks. In 1948, F.M. Brown's incorporates and new divisions, all located in eastern Pennsylvania, are added to the original flour making operation.
Brown's Fourth Generation: In the 1960's, Harvey Brown, a member of the fourth generation, opens up a facility in Sinking Spring, PA and begins producing wild bird and companion pet foods and selling them to regional customers.
Brown's Fifth Generation: Expands and modernizes the Sinking Spring operation to become a nationally and internationally recognized leader in the design and development of innovative and high quality products for the companion pet and wild bird industry.
Brown's Sixth Generation: Learning the business and formulating expansion plans with the guidance of the fifth generation; all while incorporating the strength, tradition and integrity on which our company was built 173 years ago.
2013