Tropical Carnival®
Proper nutrition is the foundation of all great diets, but don't forget about palatability. You don't enjoy bland, boring food, even if it is good for you… and neither do your pets. Food has to be eaten in order for the nutritional benefits to be achieved. Feeding time is a very important part of your pet's day and this activity presents an opportunity to form a positive bond between you and your pet. That is why we invented Tropical Carnival® Foods and Treats. They're the perfect combination of yummy and nutritious. Tropical Carnival® Original Gourmet Food was launched 20 years ago, particularly for people who really love their birds and are willing to invest in their bird's nutritional health and life enrichment.

We have a variety of products under the Tropical Carnival® banner including the Tropical Carnival® Original Gourmet Food and Treats, Tropical Carnival® Natural Gourmet Food and Treats and Tropical Carnival® ZOO•VITAL® Ultimate Avian Diet.

People always ask us, "How do I choose what's best for my pet?" Let's explore our line of Tropical Carnival® products and find the foods and treats that best fit your personal values and beliefs as well as your pet's nutritional needs.
---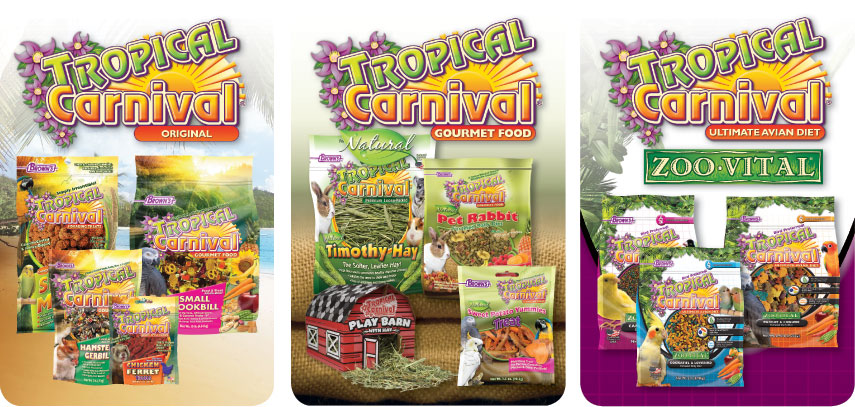 ---




Browse Tropical Carnival®
Gourmet Products

---




Browse Tropical Carnival®
Natural Products

---




Browse Tropical Carnival®
ZOO-VITAL® Products




---




The Original Gourmet Food & Still The Best!

This gourmet food is specifically formulated for the daily dietary needs of your pet birds and small animals. It's jam-packed with a medley of exotic delicacies. Each bite is vitamin-nutrient-fortified with added beneficial bacteria to support healthy digestion.

Over 30 Unique Gourmet Ingredients
In Every Bag!

Chunky pieces of fruits like pineapple, papaya, apricots, strawberries, dates and cantaloupe taste awesome and are packed with vitamins, minerals and antioxidants. Crunchy pine nuts, walnuts, peanuts, almonds and cashews are nutritional powerhouses and removing their shells encourages activity. Farm fresh veggies such as carrots and green peas help maintain a healthy immune system while seeds and grains are excellent sources of complex carbohydrates, vitamins, minerals and fiber. Pasta wagon wheels, colorful pretzels and other unique treats offer fun textures, colors and flavors to explore. Our nutritious ZOO•VITAL® Biscuits benefit your pets' health and well-being.

Our #1 Selling Pet Food Brand!

Try our Tropical Carnival® Original Gourmet foods and treats today and see what makes them so special. Your pets will love our products.



---




Who Says Natural Has To Be Boring?

We examined all of the current natural pet foods in the market place and found them to be bland and boring. So we decided to revolutionize the concept of natural. We made it our mission to seek out colorful flowers, delicious fruits and wholesome vegetables and extract their natural colors and flavors, bringing their vibrancy to our products. Pets love color and they will seek out tasty colorful foods in the wild, and this natural diet appeals to their senses. We did not want to duplicate our original Tropical Carnival® Gourmet line of foods, so we went to the ends of the earth, again, to find new and exciting ingredients.

Over 30 Unique Natural Ingredients
In Every Bag!

Luscious pieces of natural fruits such as papaya, kiwi and pineapple are filled with vitamins, minerals and antioxidants. Crispy natural almonds, filberts and pecans are full of nutritional benefits and encourage activity. Farm fresh veggies such as sweet potatoes and green flake peas provide natural vitamins and antioxidants. Berry, Fruit and Garden Veggie Crisps made from pure natural blueberries, raspberries and strawberries that are naturally rich in antioxidants and vitamin C. Pasta wheels, natural pretzels, cinnamon sticks, baked crisps and more. Natural ZOO•VITAL® Biscuits are super nutritious and benefit your pets' health and well-being.



---




100% Nutrition
In Every Bite!

There are many reasons to choose an extruded pellet diet for your pet bird. The most important is that 100% of the pellet is consumed, which is especially important for selective eaters who may discard key ingredients when seed-based diets are provided. Birds receive all of their nutritional needs from every pellet consumed and our nutritionally complete diet takes the guess work out of feeding. Many avian veterinarians recommend this type of diet and ours is the most nutritionally advanced extruded food on the shelf today.

Whole Grain, Rice-Based,
Gluten-Free Formula

A whole grain, rice-based diet provides superior nutrient absorption, optimum digestion and is a clean, quick energy source. Rice doesn't mask the flavor of other ingredients, making this a highly palatable food that's easy for birds to consume. No gluten-based grains such as corn, wheat and soy are included. By replacing these grains with whole grain brown rice, you provide a highly digestible natural source of selenium and manganese, naturally occurring oils and a diet rich in antioxidants, fiber and calcium. Attract® Super Bites are nutritious colorful shapes made from a variety of gourmet fruits and vegetables.