Probiotics and quality ingredients help your bird stay happy and healthy.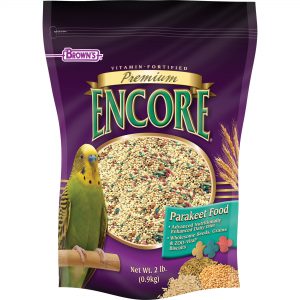 Encore® Premium Parakeet Food
Encore® Premium, a premium, vitamin-fortified food that is formulated to provide the proper nutrition your pet requires.
Our three Encore brands of pet bird daily diets are all nutritionally advanced with a variety of ingredients that your pet will love. Along with our exclusive blends, your pet will benefit from the inclusion of our unique ZOO-vital Biscuits that contain the vitamins and minerals important for the overall well-being of your pet and Probiotics to help support the health of their digestive systems.
Our Encore brand includes three unique sub-brands:
Natural Encore Classic Foods: A wholesome blend of palatable, natural seeds and grains
Encore Premium Foods. A colorful and enticing mixture of ingredients
Encore Gourmet Foods. An assortment of gourmet delicacies including luscious fruits and healthy veggies are included