Brown's
>
Machine Operator – 2nd Shift
Job Title:                     Machine Operator – 2nd Shift
Classification:             Non-exempt/Hourly
Location:                     Sinking Spring – Bird Division
Safety Sensitive:        Yes
Schedule:  Full Time
New employees will train on 1st shift and then move to 2nd shift
1st Shift – Monday through Friday – 6:45 AM – 3:15 PM
2nd Shift – Monday through Friday – 3:45 pm to 12:15 am
Job Responsibilities:
• Safely lift up to 60 lbs.
• Review production schedule to determine total run quantity. Notify supervisor if revisions are needed due to work order specifications, established priorities, and availability of ingredients, machines and equipment.
• Start machine by engaging controls. Observe machine operations to ensure quality and conformity of filled or packaged products to standards. Set, adjust and troubleshoot as needed.
• Sort, grade, weigh, and inspect products verifying and adjusting product weight or measurement to meet specifications.
• Identify defective items, remove and refer to supervision for direction. Remove finished packaged items from machine and separate rejected items.
• Set pace on line and work with other employees to meet or exceed production goals.
• Monitor the product line, watching for problems such as pile-ups, jams or glue that isn't sticking properly.
• Attach identification labels to finished packaged items, or cut stencils and stencil information on container, such as lot numbers or shipping destinations.
• Stock and sort product and replenish packaging supplies.
• Count and record finished and rejected packaged items.
Job Requirements:
• Employees must have ability to safely lift up to 60 lbs.
• Employee must have legible handwriting of words and numbers for quality recording purposes.
• Mechanical Aptitude preferred.
• Prior machine operator experience is preferred
Benefits:
• Competitive Wages
• Medical, Dental, and Life Insurance
• Vacation & Holiday Pay
• 401k
• House Oil and FM Brown Store Discounts
All interested applicants may apply to this posting with your resume. Interviews will be held either by FaceTime or Zoom.
This is a safety sensitive position.
Offers of employment are contingent on passing criminal background checks and drug testing.
Posted in: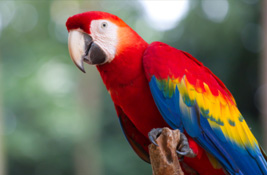 Did You Know?
Parrots
Unlike dogs and cats, Parrots are species, not breeds. There are more than 300 species of parrots with a great diversity in color and size!