Brown's
>
Popular North American Wild Birds – Chickadee
Popular North American Wild Birds – Chickadee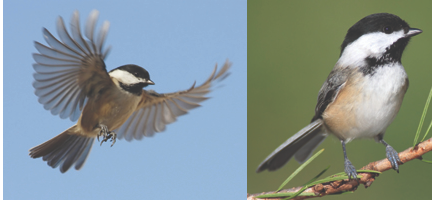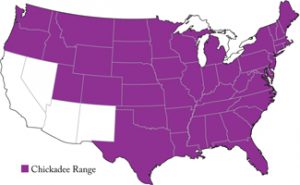 Chickadee
Black-capped Chickadee – Poecile atricapilla
Carolina Chickadee – Poecile carolinensis
Habitat
Chickadees live in the woods, farmlands, and suburbs.
Feeding Habits in the Wild
Chickadees acrobatically move through tree branches while searching for insects. They also eat seeds and berries and can even hold sunflower seeds in their feet while cracking them open with their beaks. Chickadees may store food in bark crevices, needle clusters, and under leaves for times when food is scarce.
Preferred Feeder Types
Hanging Feeders, Suet Feeders, and Wire Screen Feeders for Peanuts or Peanut Hearts
Species Facts
Chickadees benefit greatly from backyard feeders. Black-capped Chickadees can interbreed with Carolina Chickadees. In the fall and winter half their diet consists of seeds and berries, the other half is insects, spiders, and fat of carrion.
Preferred Food at the Feeder
Oil Sunflower, Peanuts and Roasted Peanut Chips, Stripe Sunflower, Suet, Safflower Seeds, Squash and Pumpkin Seeds, White Millet, Cracked Corn, Coconut, Oats, and Milo.
Brown's Recommended Foods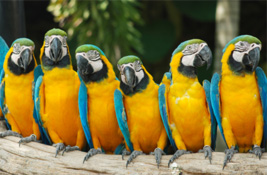 Did You Know?
Parrots
The African Grey parrots are the best imitators of human speech. In studies, African Grey's have also been known to count, identify objects and even string together short sentences to answer complex questions.
We're Social
Join our Newsletter
Sign up today and get the latest news and exclusive offers from Brown's®.
JOIN NOW
1-800-334-8816
P.O Box 2116, 205 Woodrow Avenue
Sinking Spring, PA 19608
petinfo@fmbrown.com
© 2020 F.M. Brown's Sons, Inc.